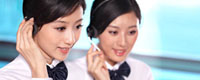 Name: Hellen Jiang
Tel: +86-755-28913043
Fax: +86-755-28913044
Mobile: 008613417342653
E-mail: hellen@kitchen4us.com
Add: No.99 OF LONGCHENG STREET ,LONGGANG DISTRICT ,SHENZHEN ,CHINA
Skype: kitchen4us


Welcome to visit LIUSHU INDUCTRIES CO.,LTD.

We are an experienced, professional exporter of kitchenware and homeware.

Based on good quality, favorable price and best after sales service LIUSHU INDUSTRIES CO.,LTD has wined many cooperators from worldwide .
As a professional supplier of kitchenware and homeware,LIUSHU clearly knows what client needs,we know that every client is different and has different needs ,that is why we approach each client individually and trying our best to meet their demands,the same time we provide special service for helping clients to develop new markets ,as well as one of the few-we accept small quantity order ,because we have reginal warehouse in Eastern Europe and we have own transport truck ,so we can send goods to all over the European countries what client needs and we accept mixed container order too .
[
More
]